Joseph HURLET, the herbalist from Liege, created Extrait de Spa in 1905. He subtly selected over 25 plants, bark, roots and flowers, which he macerated for one or two months to extract the main active ingredients. He then added a liqueur to this maceration to obtain a beneficial and delicious aperitif.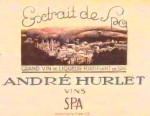 EXTRAIT DE SPA was born!

EXTRAIT DE SPA quickly went from being using as a treatment to becoming a tonic ante litteram. EXTRAIT DE SPA is now 100 years old and is gaining in popularity with all those market who take their health and well-being seriously.

It is an invigorating aperitif and is perfect for a healthy moment with friends.