The « drink of the month of May » is a refreshing drink that is drunken through the whole year.
Maitrank is a drink, whose taste and aroma qualities are produced by a blend of dry white wine and sweet woodruff. Macerated before its flowers in Moselle wine, it is generally served with a twist of orange.
Woodruff

Sweet woodruff: herbaceous plant from the madders family (+/-15 cm) which is a sweet smelling species known as "queen of the woods" or "tiny lily of the valley". It grows in Europe , Asia and in America . It grows abundantly in the beech woods around Arlon.
The tips are gathered
Flowers: May to June
Sweet woodruff contains a glycoside which releases a coumarins, whose aroma is reminiscent of freshly cut hay, when making Maitrank.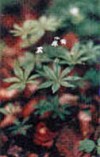 This coumarins, which is the plant's active ingredient and which provides its anti-spasmodic properties, is used to combat digestive problems or insomnia. Woodruff also has diuretic properties.
Used since the Middle Ages, it is added to alcoholic drinks and tobacco.